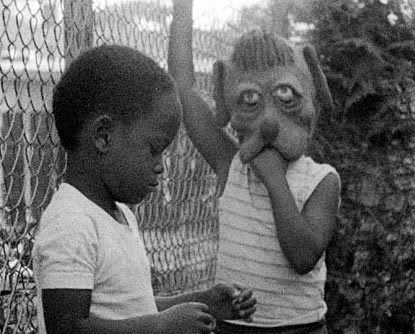 It's always special to see a film in which every frame breathes the personality and dedication of its maker. Charles Burnett's debut
Killer of Sheep
is one of those treats. The film looks and feels at times like a cheap 70's documentary, but beneath its hazy layer of grain, it's a heartfelt neorealist work. It revolves around a black family in a downbeat shantytown USA neighborhood ostensibly during the 1970's when the film was made. It is non-narrative cinema and can be applied to the "slice of life" cliche, where the main purpose is to establish a time, place, and feeling rather than come full circle with the characters. What it does is it keeps the characters at a safe distance, the closest being a father who works at a slaughterhouse yet yearns for a happier life and a more pleasurable job. He comes home to his wife day after day with little to say.
Along with the rest of the adults in
Killer of Sheep
, the father seems to have reached a point in his life where he should no longer fool around. Youth and adulthood is a primary contrast that is established. The kids indulge themselves in the understandable ingredients of naive restlessness: running around, kicking and punching for no reason, and playing rock wars. In the often times industrial ruins of the neighborhood, it is evident that they are making the most of their meager situation. The adults on the other hand have been through the vagaries of youth; they must deal with serious matters but too often seem unprepared for them. Stan, the father, appears to be the only one entirely conscious of this fact amidst the several wacky friends he has.
When the film drifts into poetic fancy at the slaughterhouse, the sheep are an important image to take into account. Cradled in pens awaiting their death, the sheep can't help but be aware of impending doom. At times they huddle together and flee the workers, but to no avail. Are these sheep representations of the adults in the film? Have they nowhere to run but death? If one looks at the latter question,
Killer of Sheep
has a pessimistic, haunting tone to it. It would place Stan among other memorable film loners who are all too aware of life's fate. Unfortunately, these rare instances of beauty are only touched upon. There's not enough attention paid to the sheep to describe the film as an allegory. Sometimes Burnett in his most sincere attempts shows us stretches of unadulterated life that end up being a bit boring. You can praise him for his compassion and ability to evoke nostalgia, but great lines like "I always told you to have a spare, but yous'a square, so you aint keep no spare!" occur a bit too infrequently. What's most compelling about these sequences is Stan's toddler daughter, whose girly behaviors are extremely endearing. Coupled with a lo-fi blues soundtrack that works magnificently,
Killer of Sheep
has the ability to touch emotionally, but at times it feels a bit like flimsy poetry.